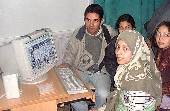 Lessons in Web designing by C.Mouatsi to some of the particpants in the project.
We designed a site on the Solar System using mainly flash detailing the characteristics of each planet and the various bodies orbiting it.

I worked with 8 Middle School and High School students, giving to each one some assignment like gathering information on a planet, making the outline of some of the "pages" using Front page, or doing some simple animation using Flash. The site had to be in Arabic so that it can be used by young students here who don't master English, nor even French. It is also one of the few sites in Arabic on the Solar System, if not the only one of that extent.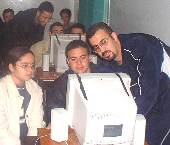 Surfing lesson for the Association's members