A Poster to Celebrate World Space Week 2002 in Algeria
Chamseddine MOUATSI

The Sirius Astronomy Association decided a year ago to hold a National Salon in

celebration of World Space Week 2002. I was in charge to design a poster embodying the spirit of the celebration and at the same time capturing some specific action that our Association has undertaken in that regard. The poster was to have a large circulation and to be displayed in various public places, schools,Universities, cultural centers, cyber cafés…
The Main Theme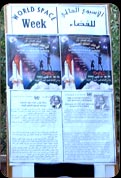 It was chosen to be the Sirius participation in the Star shine satellite project, for which it has been able to register more than forty educational institutions, and organized several workshops with the teachers and their students.
The bright ball on the upper right side is the Starshine 3 School's satellite, that a roaring Space Shuttle is putting into orbit. Kids on a hill are sighting it since this is the skill we are teaching to them in addition to mirror polishing.
It also contained the program of the event and the various planned activities. Figure also prominently World Space Week in English in the middle.
Posting it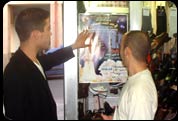 Posting it at various places around the city

was not a simple task. A team of Sirius members and volunteersplaced it on various sites. The most successful places where in the back of the buses and minibuses. We even have sights of drivers coming close to fighting with each others in order to get their posters, as the supply in some locations were tight. Our fear was that due to its handsomeness some people would rather take it for himself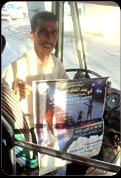 instead of displaying it!
Close to one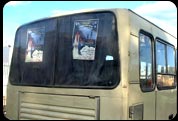 thousand posters were printed and distributed. It was also put on the Web in early September The poster was also everywhere at the Salon exhibition hall.